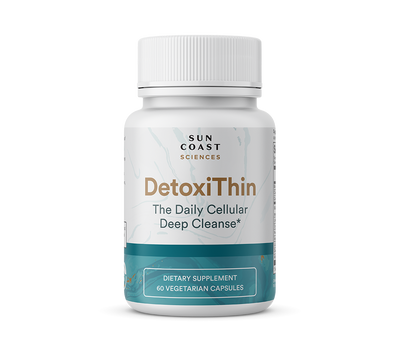 Dr Mark. Rosenberg on DetoxiThin
Far too many people look and feel heavier than they are - in body and spirit - simply because their liver is struggling with an onslaught of toxins. The liver is the master filter for the human body, so produced DetoxiThin to give it a daily power-wash. If you want to feel lighter inside and out, you'll love this formula.
Dr Mark. Rosenberg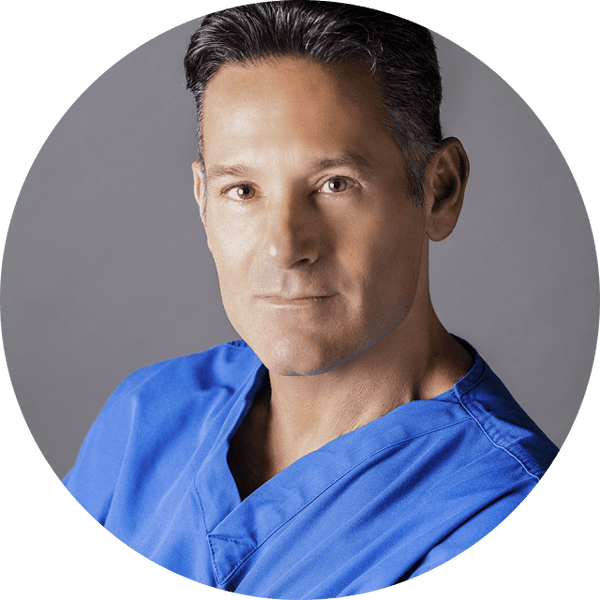 The Top Reasons To Take DetoxiThin
According To The Clinical Studies

Hormone Balance
There's a class of environmental toxins called "obesogens" that look like estrogen to the liver - and if they accumulate, it can cause all sorts of problems in the body, including weight gain, mood swings, acne, hair loss and more. DetoxiThin gives the liver everything it needs to destroy these obesogens, and send them packing!

Healthy Weight Levels
Without obesogens running rampant in the body, its normal hormonal function can resume. For many customers, this means that their bodies stop storing as much food as fat. And with ingredients that support fatty acid lipolysis in the liver, less fat is available to be stored on the waistline!

Bright, Clear Skin
The skin is a primary exit point for toxins which aren't filtered by the liver - this is a big cause of uneven complexions, spotting, and blemishes. Keeping the liver clean means fewer toxins in the skin - and that can mean a brighter, clearer complexion!

Smooth, Natural Energy
When the liver isn't backed up, it can process food and beverages more effectively. That means a more efficient "energy pipeline" through the body - and smooth, natural energy

A Brighter Mood
For anyone who is suffering from obesogen-related hormone imbalance, a good liver detox can help support the right balance, and bring their mood springing back to life.
Every individual is unique. As such, your results can and will vary. These statements have not been evaluated by the Food and Drug Administration. This product is not intended to diagnose, treat, cure or prevent any disease or illness.
Designed With Care
By Dr Mark. Rosenberg
All Sun Coast Sciences formulas are carefully designed by Dr Mark. Rosenberg, to ensure clinical dosing, of the best ingredients, with superior bioavailability. In DetoxiThin, you'll find...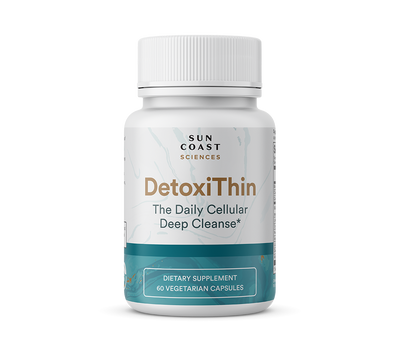 Phase 1 Liver Detox Complex
We start with choline and inositol - they support strong cellular membranes in your liver, and they can specifically help with fat and cholesterol metabolism. Then we add DIM - a potent broccoli extract - which helps "chop" up toxins, including those nasty obesogens. Finally, we added Biotin, which aids in cell growth, fat metabolism and energy generation.

Phase 2 Liver Detox Complex
It starts with calcium glucarate, which aids with eliminating fungal toxins, steroid hormones and automobile exhaust fumes. Next up is Milk Thistle, which supports glutathione levels and normal liver cell regeneration. L-Methionine is included to help elimination pathways. And finally, there's L-Glycine, which supports a pathway for combining and eliminating unwanted substances.

NAC
This incredibly potent amino acid can help in the formation of glutathione, the body's master antioxidant.

Alpha Lipoic Acid
It's a water-soluble antioxidant, which may help the liver recycle other key antioxidants.

Turmeric
A super-strong antioxidant, Turmeric has also been shown to support proper gall-bladder function. This is critical for the liver, as the gall bladder controls the release of digestive bile.
Frequently Asked Questions
With Dr. Mark Rosenberg
Why would my liver need a detox?
Your liver is your body's "master filter". It's made to remove the toxins that could damage your cells - everything from carcinogens in tobacco, to petroleum byproducts in the water supply. And let's not forget alcohol! But today's onslaught of industrial chemicals goes way beyond what the liver was designed for. When these toxins overload your liver, the effects can be catastrophic. From hormone imbalance, to weight gain, to mood challenges, to adult acne and skin problems - a struggling liver can be at the heart of all of it!
What are obesogens?
Obesogens are a class of toxins that "look like" the hormone estrogen. They can bind to estrogen receptors, and cause the body's hormonal balance to get out of whack. Common obesogens include BPA (found in cans and plastic bottles), phthalates (found in plastics, toys and beauty products) and PFOA (found in nonstick cookware).
How does DetoxiThin help?
The ingredients in DetoxiThin have been shown to support both stages of liver detoxification. In Phase 1, P450 enzymes (which are embedded in healthy liver cells) attack toxins, and degrade them into less toxic components. Then in Phase 2, those toxins are neutralized, and excreted through the urine or bile.
Can I just drink lots of water or use a sauna?
Since the skin is the body's biggest porous organ, regular use of a sauna can be helpful for detoxification. But for a liver that's really backed up, there's no substitute for the nutritional support offered by DetoxiThin.
Is there anyone who shouldn't take DetoxiThin?
If pregnant, nursing, or trying to become pregnant, we don't advise taking this product.
How long until I start seeing results?
It depends on the current state of your liver. Most customers will experience their best results after 60-90 days of continual use.
Order With Confidence
We've Got Your Back
All Sun Coast Sciences orders come with:
Free Shipping
You'll typically pay no more than $5 for shipping, and many of our packages include free shipping. We ship USPS First Class, and packages go out every night of the week. Most customers receive their orders in four days or less.
A 365-Day Guarantee
If you don't love our products, just call or write in, and we'll be happy to refund you. We make it easy and hassle-free to get your money back.
3rd-Party Testing
All of our ingredients are tested for purity upon receipt. Then, after each production run, our products are inspected at a third-party lab for integrity and potency. What you see on the label is what you get.
No Hidden Health Risks
Dr. Rosenberg is extremely careful about ingredient selection. Whenever possible, he chooses certified NON-GMO ingredients. And when our products contain allergens, we make sure it's clearly labeled.
Choosing a selection results in a full page refresh.