on $149.99 - BioShield+™ The Top Reasons To Take $149.99 - BioShield+™
According To The Clinical Studies
Every individual is unique. As such, your results can and will vary. These statements have not been evaluated by the Food and Drug Administration. This product is not intended to diagnose, treat, cure or prevent any disease or illness.
Designed With Care
By
All Sun Coast Sciences formulas are carefully designed by , to ensure clinical dosing, of the best ingredients, with superior bioavailability. In $149.99 - BioShield+™, you'll find...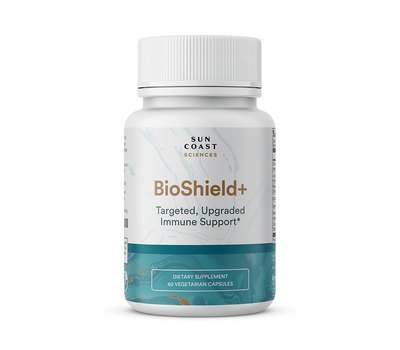 Frequently Asked Questions
With Dr. Mark Rosenberg
Order With Confidence
We've Got Your Back
All Sun Coast Sciences orders come with:
Free Shipping
You'll typically pay no more than $5 for shipping, and many of our packages include free shipping. We ship USPS First Class, and packages go out every night of the week. Most customers receive their orders in four days or less.
A 365-Day Guarantee
If you don't love our products, just call or write in, and we'll be happy to refund you. We make it easy and hassle-free to get your money back.
3rd-Party Testing
All of our ingredients are tested for purity upon receipt. Then, after each production run, our products are inspected at a third-party lab for integrity and potency. What you see on the label is what you get.
No Hidden Health Risks
Dr. Rosenberg is extremely careful about ingredient selection. Whenever possible, he chooses certified NON-GMO ingredients. And when our products contain allergens, we make sure it's clearly labeled.
Choosing a selection results in a full page refresh.