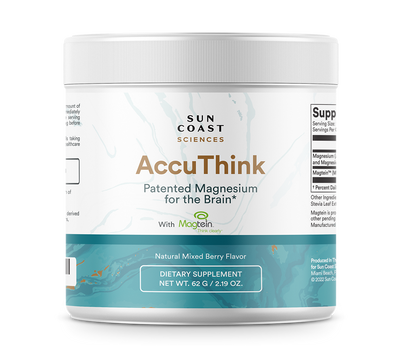 Dr. Mark Rosenberg on AccuThink
This is it - the magnesium supplement that everyone should be taking. It's a tremendous innovation in getting magnesium into your brain, and the mind-blowing clinical studies prove it. If you care about your brain, you need to be taking AccuThink daily!
Dr. Mark Rosenberg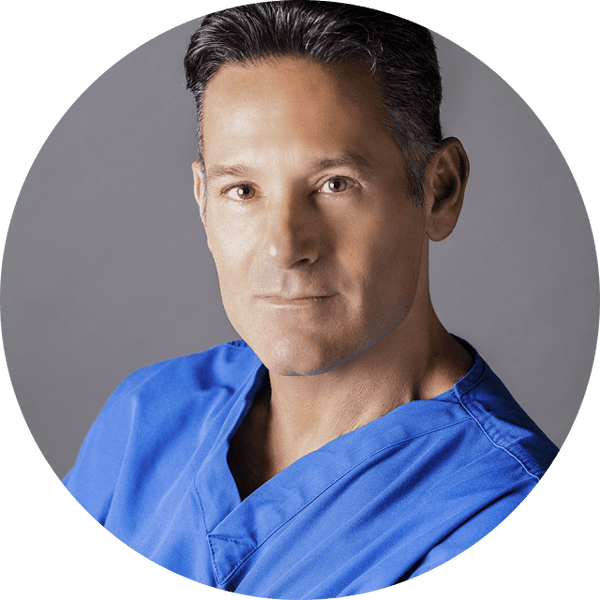 The Top Reasons To Take AccuThink
According To The Clinical Studies

Extreme Bioavailability
When compared with other magnesium forms, the magnesium in AccuThink is the only one shown to enter the brain with higher brain bioavailability.

Improved Cognitive Ability
The effect of AccuThink's key ingredients on cognitive ability was evaluated in four major domains: executive function, working memory, attention and episodic memory. Significant improvements were observed in each of these domains, and our magnesium was shown to reduce the affects of the aging brain by nine years.

Improved Learning & Memory
The magnesium in AccuThink has been shown to be the only magnesium compound effective in significantly increasing magnesium concentrations in the brain, and thus improving learning capacity, short- and long-term memory, working memory and synaptic connections in individuals of all ages.

Reduced Stress and A Better Mood
Studies suggest long-term elevation of brain magnesium can help enhance synaptic plasticity in brain regions involved with stress and mood. In-vivo data suggests that the magnesium in AccuThink may support coping abilities to stressful events and support emotional responses to fear and anxiety.

Whole Body Health
Magnesium is an essential mineral, and it's involved in hundreds of process in your body! It's been shown to support everything from healthy sleep, to muscle strength, to cardiovascular health.
Every individual is unique. As such, your results can and will vary. These statements have not been evaluated by the Food and Drug Administration. This product is not intended to diagnose, treat, cure or prevent any disease or illness.
Designed With Care
By Dr. Mark Rosenberg
All Sun Coast Sciences formulas are carefully designed by Dr. Mark Rosenberg, to ensure clinical dosing, of the best ingredients, with superior bioavailability. In AccuThink, you'll find...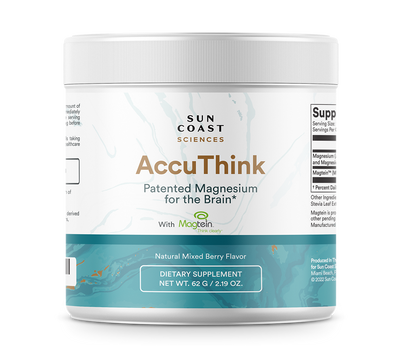 Magtein (magnesium l-threonate)
This patented magnesium is clinically proven to pass through the blood brain barrier better than any other studied magnesium.

Magnesium d-magnesium malate
This second form of magnesium is combined with malic acid - a fruit extract which is thought to enhance the magnesium bioavailability.

TRAACS magnesium lycinate glycinate
This form of magnesium is bound to the amino acids lysine and glycine, to enhance the body's ability to use it.
How Much To Take
& When To Take It
Dissolve one level scoop in 4 oz water or adjust the amount of water to desired sweetness. First week: one serving per day immediately before dinner or one hour before bedtime. Thereafter: one serving during the day, preferably mid-afternoon, and a second serving before bedtime; or use as directed by your healthcare practitioner. Consult your healthcare practitioner prior to use. Individuals taking medication should discuss potential interactions with their healthcare practitioner. AccuThink gets to work rebuilding your neural roads… solidifying the junctions… and creating the strong, smooth network on which your thoughts, memories and emotions can zip around like supercars on an open freeway.
Frequently Asked Questions
With Dr. Mark Rosenberg
How does AccuThink work?
It's a combination of three highly-bioavailable forms of magnesium. Key ingredients in AccuThink have been clinically proven to cross the blood-brain barrier, where they can help regulate neuronal activity. But it goes beyond the brain - magnesium is involved in over 600 different cellular processes, from DNA growth to muscle contraction!
Why is magnesium so important for the brain?
Magnesium is an important messenger between your body and your brain. It regulates the activity of nerve cells via NMDA receptors. If you don't have enough magnesium, these nerve cells can be triggered too easily - that can kill nerve cells, and can even cause big problems in your brain!
What makes AccuThink so special?
We've combined 3 highly bioavailable forms of magnesium into one formula. It comes as a delicious, light fruit flavored mix that you'll look forward to!
How long will it take for me to feel it?
Depending on your current magnesium levels, you could start feeling the effects of AccuThink in just a few short days. For best results, we suggest continued daily use.
Is there anyone who shouldn't take AccuThink?
Magnesium is well-tolerated in appropriate doses. As with all supplements, check with your healthcare provider.
Order With Confidence
We've Got Your Back
All Sun Coast Sciences orders come with:
Free Shipping
You'll typically pay no more than $5 for shipping, and many of our packages include free shipping. We ship USPS First Class, and packages go out every night of the week. Most customers receive their orders in four days or less.
A 365-Day Guarantee
If you don't love our products, just call or write in, and we'll be happy to refund you. We make it easy and hassle-free to get your money back.
3rd-Party Testing
All of our ingredients are tested for purity upon receipt. Then, after each production run, our products are inspected at a third-party lab for integrity and potency. What you see on the label is what you get.
No Hidden Health Risks
Dr. Rosenberg is extremely careful about ingredient selection. Whenever possible, he chooses certified NON-GMO ingredients. And when our products contain allergens, we make sure it's clearly labeled.
Choosing a selection results in a full page refresh.