Dr. Mark Rosenberg on Complete Package Serum
You truly need one skincare product - this is it. It's a silky, "one-and-done" daily serum for smoothing, firming, clarifying and adding moisture to your face. That's why we call it the Complete Package Serum. Imagine replacing all of your topicals with this one little vial, and getting even better results. Its ingredients have been clinically shown to deliver visible, touchable changes to your appearance in just 14 days.
Dr. Mark Rosenberg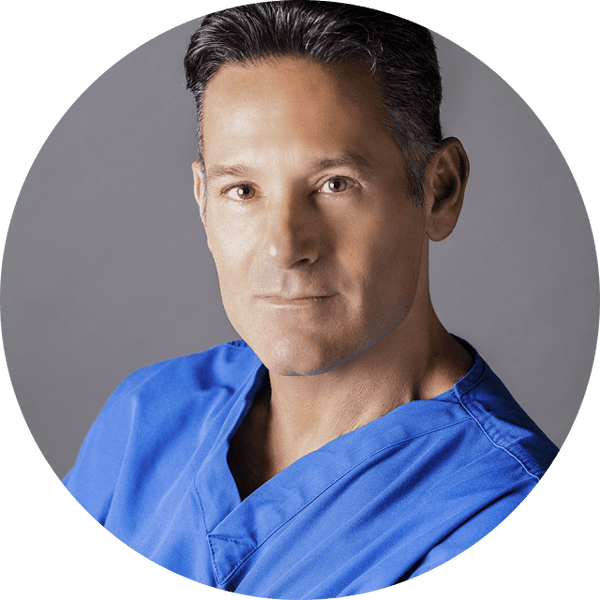 The Top Reasons To Take Complete Package Serum
According To The Clinical Studies

Dramatically Tightens Loose & Saggy Skin
5 Powerful age-defying ingredients instantly start to rebuild and tighten the structure of your skin to create the profound smoothing and tightening effect your skin needs to look young.

Diminish & Eliminate Wrinkles
Rebuild the lost collagen and elastin in your skin that causes deep wrinkle formation and watch each week as your wrinkles erase themselves.

Restore A Youthful Radiant Glow to Your Skin
An incredible increase in skin hydration brings upon a radiant, honeymoon-like glow that makes you the envy of women half your age.
Every individual is unique. As such, your results can and will vary. These statements have not been evaluated by the Food and Drug Administration. This product is not intended to diagnose, treat, cure or prevent any disease or illness.
Designed With Care
By Dr. Mark Rosenberg
All Sun Coast Sciences formulas are carefully designed by Dr. Mark Rosenberg, to ensure clinical dosing, of the best ingredients, with superior bioavailability. In Complete Package Serum, you'll find...

Argireline
Some people call this peptide "botox in a bottle", because it targets your dynamic wrinkles - those are the fine lines and creases you get around your eyes, and your mouth.

Matrixyl Synthe-6
This peptide targets dynamic wrinkles - the fine lines - which have become etched-in, static wrinkles. Lab tests showed 62% less wrinkle depth, and a 77% increased "tightening effect" in those problem spots.

Hyaluronic Acid
It's one of the hottest ingredients around, and for good reason! It helps your skin attract and hold onto moisture like nothing else, for a beautiful lifting, plumping effect.

Stay-C
If your face is dull, leathery or showing dark age spots, you'll love this patented Vitamin C extract. It's clinically shown to help improve your skin's brightness, and also help reduce the look of redness, acne, and even sun exposure!
How Much To Take
& When To Take It
Use Complete Package Serum twice a day, morning and night, for best results. It's a perfect "base layer" to apply under your SPF, concealer, or any other makeup. The formula melts into your skin with no flaking or residue. Results get better with time, so make sure to stock up for the best savings and results.
Frequently Asked Questions
With Dr. Mark Rosenberg
What Is The Full List of Ingredients?
Complete Package Serum contains clinical doses of Key Ingredients: Stay-C®, Hyaluronic Acid, Matrixyl®, Matrixyl® Synthe-6TM, and Argireline®.

Here is a more detailed list: Aqua, aloe barbadensis (vera) leaf juice***, isopropyl palmitate, sodium ascorbyl phosphate, sodium hyaluronate, palmitoyl pentapeptide-4 (matrixyl®*), hydroxypropyl cyclodextrin (and) palmitoyl tripeptide-38 (Matrixyl® Synthe-6TM*), acetyl hexapeptide-8 (argineline®**), butyrospermum parkii (shea butter), matricaria recutita (chamomile) flower extract***, camellia sinensis (green tea) leaf extract***, olea europaea (olive) leaf extract***, carbomer, arginine, phenoxyethanol, ethylhexylglycerin.

The product also contains a combination of certified organic extracts, providing a certified organic product content of over 70%.
How Does Complete Package Serum Work, Exactly?
Complete Package Serum specialized ingredients works together, to combat both static and dynamic wrinkles, along with age spots.

Our tri-peptide blend is going to help erase the appearance of both types of wrinkles. Then, there's a potent dose of hyaluronic acid to flood your skin with moisture and a clinical measurement of Stay-C, to smooth out your roughness and blur out those age spots for a bright, vibrant complexion.

There's just no other product as complete for filling in wrinkles.
How do I Use Complete Package Serum?
Just apply a pump on your forehead, and another pump or two to cover your smile lines and your eye bags…

Then a few pumps for your cheeks, your mouth, and your marionette lines.

Then you're done.

This luxurious, lightweight, serum spreads easily, and penetrates your skin fast.
Can Complete Package Serum Help With Age Spots?
Yes! There's a potent dose of hyaluronic acid to flood your skin with moisture and clinical measurement of Stay-C, to smooth out your roughness and blur out those age spots for a bright, vibrant complexion.
How Long Does It Take To See Results?
While many patients begin to see changes in just two weeks, the most visible results come after ninety days of continued use. Remember – Complete Package Serum works by going to work on two types of wrinkles so daily use is essential to see the biggest improvements. This is why Sun Coast Sciences Doctors recommend purchasing the 3-month or 6-month supply. Whatever you choose, you'll want to take your "before" photo the day Complete Package Serum arrives, then take ongoing photos on Days 14, 30, 60 and 90 (and prepare to be amazed by what you see).
Can I Use More For Better Results?
Yes, you can. Complete Package Serum is 100% safe to use more often, and for patients and customers who really want to see big changes, our doctors at Sun Coast Sciences recommend morning and evening application on all areas of the body with wrinkles, discoloration, or dryness. If that interests you, then please consider the 6-bottle option – you'll save the most money and get the fastest results.
How Quickly Will I Receive My Order?
Complete Package Serum orders are packed every afternoon, M-F, at our clean Utah warehouse, and sent out via USPS Priority Mail the following day. Depending on how far you live from Reno, you can expect your shipment to arrive within 2-4 days after it has been sent. If you have any questions or concerns about your shipment, we urge you to contact us so we can make sure it gets to you.
How Does The Refund Policy Work?
Simply give us a call at 1-888-281-6816 or email us at mail@suncoastsciences.com for return instructions. Once we have received your completed return form with your valid return tracking number, we will issue your refund. If you do not reply, we will refund once our warehouse has recorded your return. Please note, the warehouse can take up to 2 weeks for this process.
Order With Confidence
We've Got Your Back
All Sun Coast Sciences orders come with:
Free Shipping
You'll typically pay no more than $5 for shipping, and many of our packages include free shipping. We ship USPS First Class, and packages go out every night of the week. Most customers receive their orders in four days or less.
A 365-Day Guarantee
If you don't love our products, just call or write in, and we'll be happy to refund you. We make it easy and hassle-free to get your money back.
3rd-Party Testing
All of our ingredients are tested for purity upon receipt. Then, after each production run, our products are inspected at a third-party lab for integrity and potency. What you see on the label is what you get.
No Hidden Health Risks
Dr. Rosenberg is extremely careful about ingredient selection. Whenever possible, he chooses certified NON-GMO ingredients. And when our products contain allergens, we make sure it's clearly labeled.
Choosing a selection results in a full page refresh.