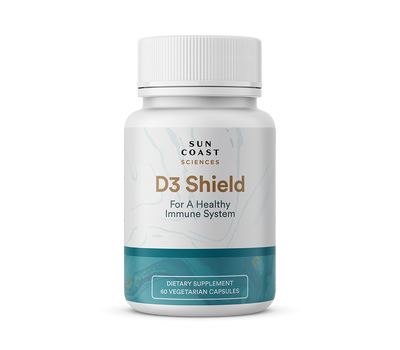 Dr. Mark Rosenberg on D3 Shield
D3 is essential - but if you don't take it alongside K2, it can be deadly! This formula delivers safe, high doses of Vitamin D3, and compliments them with K2-7 for potent, effective delivery.
Dr. Mark Rosenberg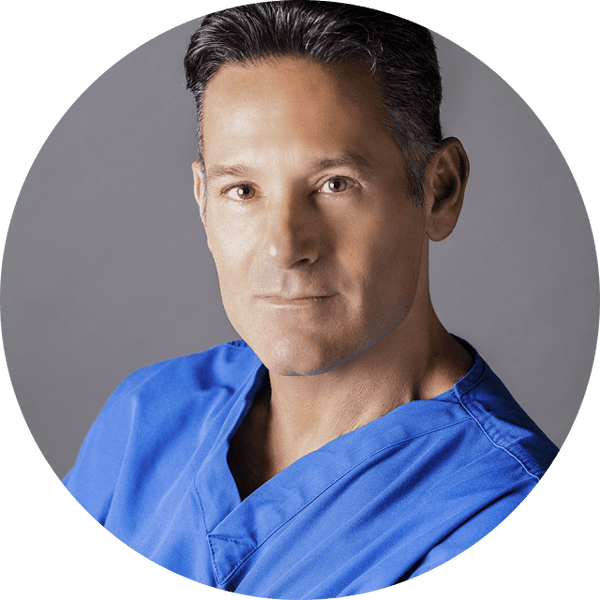 The Top Reasons To Take D3 Shield
According To The Clinical Studies

The Best of D3 + K2
One of D3's prime roles is to help you absorb calcium. Issue is, it doesn't control where that calcium goes. Enter Vitamin K2, the "calcium coach." It helps guide this calcium into your bones, and not into your arteries or kidney!

Strong Bones & Muscles
We've combined D3 and K2 in one convenient capsule. So when you take D3 Shield, you can feel confident that your bones are getting the nutrients they need to stay strong, and your joints are getting the help they need to stay supple, flexible, and ache-free.

An Upbeat Mood
Studies have shown that Vitamin D3 can support a more optimistic, upbeat mood. One of its key functions is to regulate serotonin and dopamine - the "happiness" chemicals in the brain. No wonder they call it the sunshine vitamin!

Support For Healthy Aging & Energy
Both Vitamins D3 and K2 have been shown to support cellular function and longevity. K2 is a potent antioxidant, especially in the brain and the heart. It's been shown to help protect your mitochondria - your cellular power-plants - from damaging free radicals.

Strong Immunity
As a signaling hormone, Vitamin D3 can enhance the strength of your innate defenses - macrophages and monocytes. It's also been shown to promote a healthy inflammatory response, and help activate the immune system in times of stress.
Every individual is unique. As such, your results can and will vary. These statements have not been evaluated by the Food and Drug Administration. This product is not intended to diagnose, treat, cure or prevent any disease or illness.
Designed With Care
By Dr. Mark Rosenberg
All Sun Coast Sciences formulas are carefully designed by Dr. Mark Rosenberg, to ensure clinical dosing, of the best ingredients, with superior bioavailability. In D3 Shield, you'll find...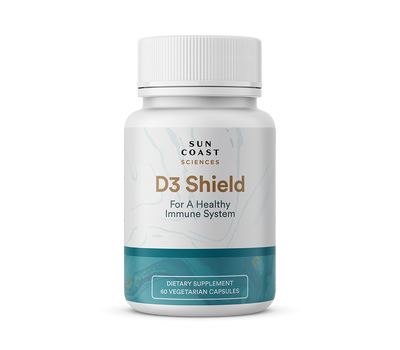 Vitamin D3
It's known as the "sunshine vitamin" - and chances are good you're not getting enough! Supports bone strength, heart health, an upbeat mood, heathy sleep, and healthy aging - this is one vitamin you don't want to be without!

Vitamin K2-7
A multi-function Vitamin that supports everything from bone health, to cellular longevity and energy. We've chosen the superior K2-7 form of the vitamin - it's up to 1000x stronger than the inferior K2-4 found in most supplements!
How Much To Take
& When To Take It
A standard serving of D3 Shield is one capsule daily. In times of immune stress, you're welcome to take two, or even three servings per day.
Frequently Asked Questions
With Dr. Mark Rosenberg
Why is it important to take D3 and K2 together?
Vitamin D3 is great at extracting calcium from food, and getting it into your bloodstream. But it doesn't control where it goes - and that can mean calcium getting stuck in arteries, or the kidney. Enter Vitamin K2, the "calcium coach." It helps guide the calcium into your bones, right where it's needed!
Is this a high daily dose of D3?
Most Americans are somewhere between "quite deficient" and "extremely deficient" in Vitamin D3. Paired with K2, our high dose of Vitamin D3 can be just the right amount for anyone who doesn't spend their days in the sunshine. One dose is two capsules, so for anyone who wants to scale back, it's perfectly fine to take only one capsule a day. For best results, work with your healthcare provider to monitor your Vitamin D3 levels.
How does D3 work?
D3 is actually a steroid hormone, produced by exposure to sunlight. It functions as a messenger, turning certain cellular activity on or off. It's estimated that 41% of Americans are deficient in Vitamin D!
Is there anyone who shouldn't take D3Shield?
If your Vitamin D levels are already extremely high, you may not need supplementation. Please work with your healthcare provider to determine current Vitamin D levels.
Order With Confidence
We've Got Your Back
All Sun Coast Sciences orders come with:
Free Shipping
You'll typically pay no more than $5 for shipping, and many of our packages include free shipping. We ship USPS First Class, and packages go out every night of the week. Most customers receive their orders in four days or less.
A 365-Day Guarantee
If you don't love our products, just call or write in, and we'll be happy to refund you. We make it easy and hassle-free to get your money back.
3rd-Party Testing
All of our ingredients are tested for purity upon receipt. Then, after each production run, our products are inspected at a third-party lab for integrity and potency. What you see on the label is what you get.
No Hidden Health Risks
Dr. Rosenberg is extremely careful about ingredient selection. Whenever possible, he chooses certified NON-GMO ingredients. And when our products contain allergens, we make sure it's clearly labeled.
Choosing a selection results in a full page refresh.