Dr. Mark Rosenberg on AMPAlive
If you love sugar and carbs, but hate the weight gain, AMPAlive is for you! We designed this formula to help you eat less sugar and carbs, digest them more efficiently, and limit their harmful effects! Here's a simple rule: if you're eating carbs or sugar, have some AMPAlive first. Your waistline and your gut will love you for it.
Dr. Mark Rosenberg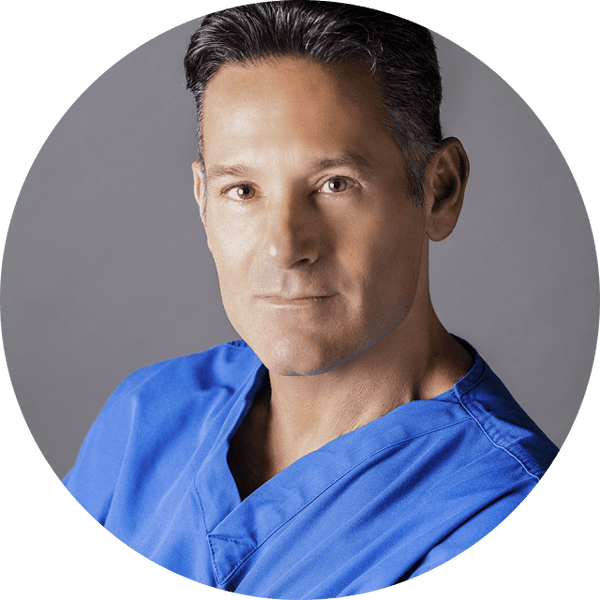 The Top Reasons To Take AMPAlive
According To The Clinical Studies

Triple-Action Carb Control
AMPAlive's three ingredients work together to control your carb cravings, to smooth out your sugar metabolism, and to support your healthy, normal blood sugar levels.

Healthy Weight Loss
Key ingredients in AMPAlive have been shown to support weight loss, by switching "on" an enzyme called AMPK. AMPK controls whether you store food for fuel, or burn it as energy - so you want it turned on!

Boost Cellular Energy
When your AMPK is switched on, you simply burn more carbs as fuel! Best of all, it's pure, natural energy - no jitters, and no crash.

Digestive Health
Key ingredients in AMPAlive have been shown to promote smooth digestion, and increase the number of healthy, beneficial bacteria in the gut.
Every individual is unique. As such, your results can and will vary. These statements have not been evaluated by the Food and Drug Administration. This product is not intended to diagnose, treat, cure or prevent any disease or illness.
Designed With Care
By Dr. Mark Rosenberg
All Sun Coast Sciences formulas are carefully designed by Dr. Mark Rosenberg, to ensure clinical dosing, of the best ingredients, with superior bioavailability. In AMPAlive, you'll find...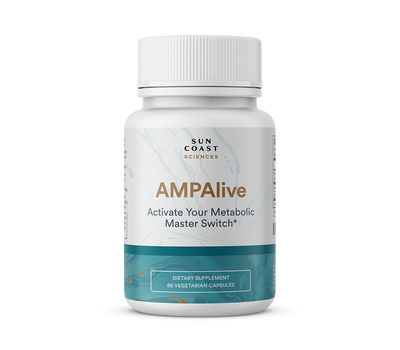 Berberine HCL
This "AMPK Activator" can kickstart your master metabolic switch, which controls whether the body burns food as energy, or stores it as fat. This singluar action has a lot of consequences, from weight loss, to healthy blood sugar management, to beneficial gut bacteria, to healthy cholesterol levels! In a 3 month study, 37 overweight individuals were given 300 mg of berberine 3 times per day. These patients saw their body mass index drop from 31.5 to 27.4, lost significant amounts of belly fat, and saw improvement in several other markers of health.

Gymnemna Sylvestre
Known in Hindi as the "sugar destroyer," Gymnemna looks chemically similar to sugar molecules. It can bind to sugar receptors in your gut, thereby reducing the amount of sugar that your body absorbs and processes with every meal. A study in 60 moderately-obese people taking a Gymnema extract found a 5–6% decrease in body weight, as well as reduced food intake.

Chromium Picolinate
The "cravings crusher" - Chromium Picolinate is clinically proven to help you eat less! In one 8-week study, Chromium Picolinate lowered food intake, and crushed the cravings and hunger pangs in overweight women. Another study showed that it reduced carbohydrate intake by a full 25% ... that adds up to an astounding amount of calories that won't reach your waistline!
Frequently Asked Questions
With Dr. Mark Rosenberg
How does AMPAlive work?
It's a triple-action formula that helps you eat less... process less of the sugar you do eat... and metabolize that sugar in a healthy way! That means it can support your already healthy, normal blood sugar levels, and prevent all of that glucose from getting stored as fat on your body.
What is AMPK?
AMPK is your "master metabolic switch." It's a little enzyme that controls whether you burn food for energy, or store it as fat. When you eat too many calories, it sends a message to your AMPK that you're in "feast mode," so you should store all of those extra calories as fat. Until recently, the only way to reactivate your AMPK and switch it "on" was to do high intensity exercise, or too fast.
How can AMPAlive help reactivate my AMPK?
Berberine has been clinically proven to activate AMPK in cells, This led the Natural Medicine Journal to state "…activating AMPK can produce the same benefits as exercise and dieting on weight loss. One way to appreciate berberine's potential is to think of it as having the same effect on a patient as increasing exercise while at the same time restricting calorie intake."
How can AMPAlive help keep my healthy blood sugar levels in the right range?
Chromium Picolinate can help you crave less sugar, and Gymnemna Sylvestre can block the sugar receptors in your gut, so you simply don't digest as much of it. Then, Berberine's influence on your AMPK can help control how quickly that sugar is metabolized.
When should I take AMPAlive?
It's ideal to take 2 AMPAlive capsules, about 15-30 minutes before your two biggest meals. This helps all the ingredients get into your system and activated, to prep your body for the meal that's coming. For additional support, you may take a third serving prior to a third meal of the day.
How long will it take to work?
AMPAlive starts to work right away. And along with a reasonable diet and moderate exercise, it can support healthy weight loss in just a matter of weeks.
Is there anyone who shouldn't take AMPAlive?
If you're currently taking medication or supplements for your blood sugar, check with your doctor before taking AMPAlive.
Order With Confidence
We've Got Your Back
All Sun Coast Sciences orders come with:
Free Shipping
You'll typically pay no more than $5 for shipping, and many of our packages include free shipping. We ship USPS First Class, and packages go out every night of the week. Most customers receive their orders in four days or less.
A 365-Day Guarantee
If you don't love our products, just call or write in, and we'll be happy to refund you. We make it easy and hassle-free to get your money back.
3rd-Party Testing
All of our ingredients are tested for purity upon receipt. Then, after each production run, our products are inspected at a third-party lab for integrity and potency. What you see on the label is what you get.
No Hidden Health Risks
Dr. Rosenberg is extremely careful about ingredient selection. Whenever possible, he chooses certified NON-GMO ingredients. And when our products contain allergens, we make sure it's clearly labeled.
Choosing a selection results in a full page refresh.