Dr. Mark Rosenberg on HydraFlex
Hyaluronic Acid is like a little sponge for moisture - it can hold up to 1000x its own weight in water! So it does amazing double duty: first, in plumping up the skin and helping with moisture retention, and second, supporting joint health and comfort. It's wonderful for anyone who sees or feels the effects of age!
Dr. Mark Rosenberg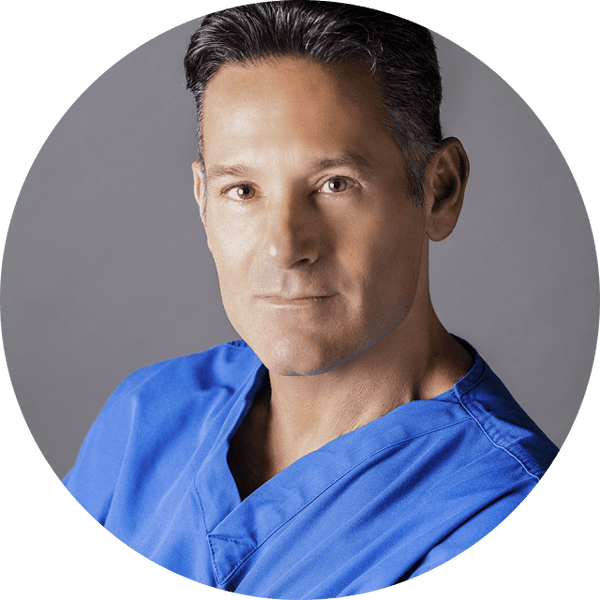 The Top Reasons To Take HydraFlex
According To The Clinical Studies

Healthy, Comfortable Joints
Hyaluronic acid is a building block for joints - it actually lines the joint walls, and keeps them lubricated and moving easily. Studies show that 80-200mg daily can lead to significant relief for in the knees, especially for people 40-70 years old.

Moist, Plump Skin
Roughly half of the Hyaluronic Acid in your body is found in your skin, trapping moisture for a plump, firm glow. But your natural levels decline with age, so it's essential to supplement! 120-240mg per day have been shown to dramatically increase moisture, and reduce dryness.
Every individual is unique. As such, your results can and will vary. These statements have not been evaluated by the Food and Drug Administration. This product is not intended to diagnose, treat, cure or prevent any disease or illness.
Designed With Care
By Dr. Mark Rosenberg
All Sun Coast Sciences formulas are carefully designed by Dr. Mark Rosenberg, to ensure clinical dosing, of the best ingredients, with superior bioavailability. In HydraFlex, you'll find...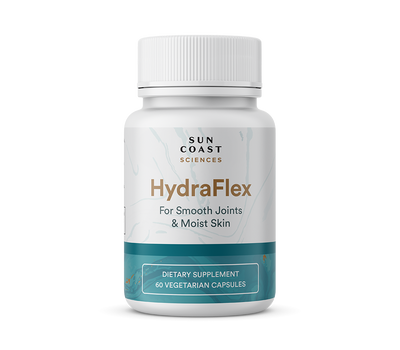 Hyaluronic Acid
The star of this show, we included 40mg per capsule - the maximum dose we could fit. Boost your skin moisture, and lubricate your joints with this amazing 2-in-1 ingredient.

Salvia Hispanica Powder
This stabilizer can help protect hyaluronic acid from getting destroyed by the bile in your stomach, so you get its full benefits.

Sunflower Lecithin
A secondary delivery boost, sunflower lecithin has been shown to help with absorption and delivery of a variety of ingredients.
Frequently Asked Questions
With Dr. Mark Rosenberg
How does hyaluronic acid work?
It's sure strange they called it an acid - more appropriate would be something like "water sponge." This ingredient sucks up moisture in the air and in your body, and delivers it where it's so needed - your skin, and your joints.
I'm already using a hyaluronic acid moisturizer - why should I take a supplement too?
Your body naturally produces plenty of hyaluronic acid when you're young, but levels naturally decline with age. Most moisturizers can't penetrate the skin deep enough to support moisture in lower layers of the dermis... and they'll do nothing for your joint health. For plump skin from within, and smooth lubricated joints, there's no alternative to a supplement.
How much should I take?
There's no formally established dose of Hyaluronic Acid. Some customers take one capsule a day, while others take up to four.
Is there anyone who shouldn't take HydraFlex?
One study of 60 people, who took 200mg daily, showed no side effects or complications. But as with all supplements, consult with your healthcare provider before starting HydraFlex.
Order With Confidence
We've Got Your Back
All Sun Coast Sciences orders come with:
Free Shipping
You'll typically pay no more than $5 for shipping, and many of our packages include free shipping. We ship USPS First Class, and packages go out every night of the week. Most customers receive their orders in four days or less.
A 365-Day Guarantee
If you don't love our products, just call or write in, and we'll be happy to refund you. We make it easy and hassle-free to get your money back.
3rd-Party Testing
All of our ingredients are tested for purity upon receipt. Then, after each production run, our products are inspected at a third-party lab for integrity and potency. What you see on the label is what you get.
No Hidden Health Risks
Dr. Rosenberg is extremely careful about ingredient selection. Whenever possible, he chooses certified NON-GMO ingredients. And when our products contain allergens, we make sure it's clearly labeled.
Choosing a selection results in a full page refresh.